Setting up an e-commerce requires specific and carefully considered choices from the outset. In fact, it is immediately necessary to define your business model and choose the geographical areas where your products will be sold. But that's not all; here are the steps to follow.
Premise
Before proceeding with the creation of an e-commerce site, it is good to ask yourself a few questions about your objectives:
Increased turnover?

Additional or replacement market?

Positioning relative to competitors?

Product test & learn?
Interaction with users?
Internationalisation?
Launch of specific new products or services?
---
What to sell
When choosing the catalogue, it is essential that at least one of these three items occurs:
Competitive price

Distinctive services, recognised by users

Most comprehensive catalogue on the market
---
Define the business model
The business model reflects the ways in which sales occur, and it normally evolves over time.
You should therefore pay attention to:
Customer experience management

The target audience, and what is important to them

The methods of communication

How to interact offline and online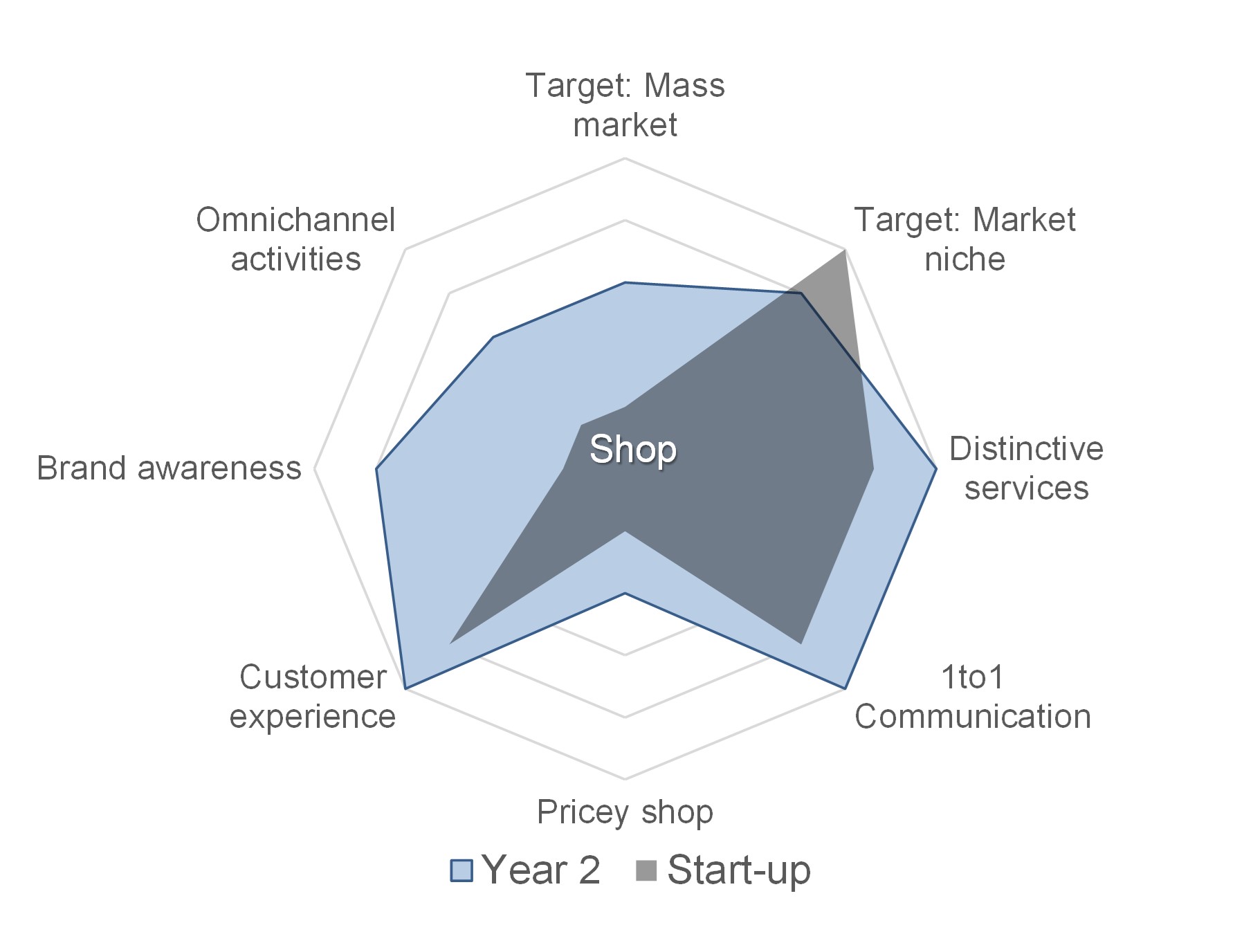 ---
Define the distinctive services
Services should be independent of the sales channel and complement the products. Services should also be designed according to the target customers.
For example:
Operational services (

e.G.

Payment methods, shipping, assistance)

Product-related services (

e.G.

Customisation, on demand etc).
---
Choose w

hich sales channels to use
This choice depends on the catalogue, the services offered and the business model. But it also depends on the budget available to launch the channel and for investment in advertising.
A very small budget actually requires the us

e of marketplaces to focus efforts on communication and the catalogue.

However, a larger budget may enable the implementation of multiple sales channels, and possibly a proprietary channel
---
Sales locations
The choice of locations depends on many factors:
The presence of products in the geographical areas

The available budget

The logistics and delivery methods that are feasible

The ability to organise an international team (

e.G.

Customer service, store management)

Limitations on the shipment and

delivery of goods abroad, depending on the warehouses of departure

Administration and tax regime
The start-up should always be carried out in a limited area, and subsequently expanded.
---
Detailed business plan
The importance of the business plan is that it gives an understanding of the actual costs. The plan should also take into account errors and delays, and be as detailed as possible in terms of costs and potential risks. An inaccurate business plan does not help in decision-making, and constitutes an additional risk for the launch of an e-commerce channel.
---
Building an appropriate organisation
The e-commerce team is critical to successful launch of the channel.
The first decision is which areas you wish to keep within the company (

e.g.

catalogue, p

rices) and which to outsource (

e.g.

customers, logistics)

For the in-house team, the key figures are an area manager (including for multiple channels) and possibly a PM, a sales manager and an IT manager

For the external team, the choice is whether to rely

on several "vertical" companies or one company that can cover all your needs. This too depends on your ability to oversee them
---
Technological development
Technological development essentially depends on the sales channels:
If marketplaces are used, initi

ally no development is possible, or development is limited to integration with logistics and customer care

If a proprietary platform is used, the site will have to be planned, designed and developed on a commercial or custom platform. In this case, the cos

ts of integration with logistics and couriers,

payment providers and any third-party platforms (

e.G.

Administration) must be taken into account
---
Creative materials
For each channel, and for advertising and communication, it is necessary to produce creative materials, such as:
For marketplaces, company pages and product pages

For all channels, images / videos illustrating the products for sale

Banners and creative content for communication,

e.G.

Promotional plans

Banners and advertising content in the vario

us formats required.
---
Planning logistics and shipping
Logistics is the heart of e-commerce, and the crucial factor for success.
In the initial stage, the most important aspects are:
The source warehouses for goods (

e.G.

Proprietary, third party or

marketplace)

The packaging methods

Carriers and shipping costs by destination (national and / or international)

Reverse logistics, for returns
It is important to adopt a model suitable for the target customers (a B2B warehouse for a B2C e-commerce, for example, is risky).
---
Defining legal and privacy policies
Where marketplaces are used, the legal component is fairly limited, but it is essential to identify the limits of data use. For proprietary channels, on the other hand, several steps are required:
Condi

tions of use of the website

Terms and conditions of sale

Privacy policy, possibly with profiling

Cookie policy

Customer support
This aspect is often underestimated, but it is essential to avoid penalties.
---
Develop a 3-month marketing plan
The marketing plan depends strongly on the sales channels chosen, the launch period and the type of products. In general, the following should be considered:
Advertising calendar

Incentives to registration (proprietary channel)

Contact plan for registered non-buyers and a

bandoned carts

Preliminary sales forecast based on media investment and channels

Communication plan and communication channels.
---
Develop an advertising plan for the first 3 months
An advertising plan should always be built for each e-commerce channel, and should include integrated actions on different sources of traffic:
"Search" actions, both on platforms such as google and on marketplaces

Comparison actions (

e.G.

Google shopping)

Media buying on social networks, in synergy with communication activities on

the same channels.
Media investment is also essential for selling on marketplace channels, in order to build brand visibility.
---
Testing and checking
Core e-commerce processes should always be trialled prior to launch, in order to prevent major glitches. In particular:
Logistics and shipping flow

Payment flow

Administration flow

Flow of returns and refunds

Customer support flow (level one)

Customer support flow (levels two and three)

Supply flow and stock alignment
---
Launch and communication
When the online channel launches, there may be 0 sales. There is no need to worry, but you will need to:
Start communicating

Test what works and what doesn't

Launch the advertising strategy

Monitor the main performance indicators
---
In summary
eC

ommerce should be treated as a sales channel rather than a stand-alone project

To launch a successful channel, it is important to set clear objectives in advance

Investment in traffic is essential. If no one knows about it, you can't sell i

t.
---