Guest purchases: yes or no? Now it is time to try and answer one of the questions we ask ourselves most often: is guest shopping worthwhile?
Registered users not logging in
According to the b2x Study Center, a shop that allows guest purchases posts 30-35% of purchases on average in this mode. However, up to 85% of "guest" buyers are actually registered users of the site. This figure may be surprising but, analyzing different eShops, the % of known users varies greatly, and is influenced by several factors.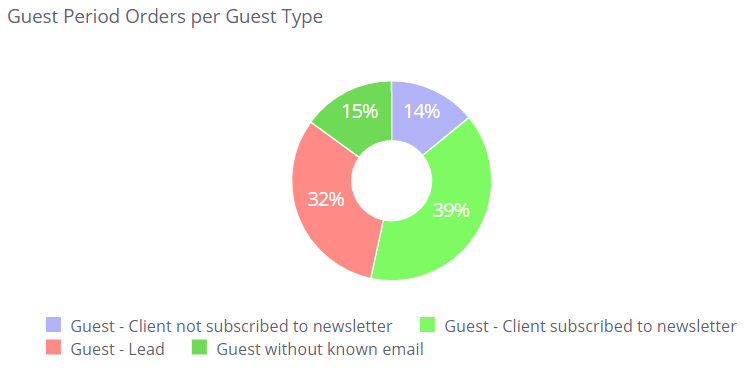 ---
Site notoriety
Figures show that the number of users using guest checkout is significantly higher as eShop notoriety grows. In the most attractive shops that have a very high percentage of users signing up for the newsletter - more than 4% of visitors - the percentage of known guest buyers grows in line with channel trust, going from 50% within the first 12 months to 85% after 36 months. In smaller shops, where the newsletter subscription rate is lower - less than 1.5% - we see the opposite phenomenon, with just 37% of guest buyers actually known users.
Analyzing different online shops, it is clear that, after just two years (2019-2021), the percentage of users who prefer to buy as guests, even though they are already registered users, grew by 7%.

---
The value of registering and logging in
For the brand, registered user purchases serve two purposes: to analyze user behavior more accurately, and to customize the experience where possible. The benefits for the brand should, however, be reflected in obvious benefits for the user, improving the overall shopping experience. A simplified login procedure improves the process, but does not guarantee a better registration or retention rate. A well-constructed benefits plan on the other hand is in most cases the best incentive for registered users to buy.
Simplifying the purchasing process is definitely an important aspect, but it serves a purpose only when paired with a persistent login and cart, otherwise simplification does not work.
---
How to make the online shopping experience unique
Personalizing the experience is an increasingly important asset for the market, especially for the premium segment. Below are some simple techniques that will enable you to significantly lower the percentage of guest users by making the user feel truly at the center of the shopping experience. The registered user can take advantage of discounts and personalized offers and loyalty rewards, and view products based on their needs. The purchasing path should relate exclusively to the user based on the data they provide, in order to cater to their preferences, needs and priorities. For registered users, wishlists can be created, based on which shops can perform CRM activities.
During the registration phase users should not be asked to provide too much information, so as not to get them to fill in too many fields. They may be asked to complete their profile at some point after registering.
---
What to do with guest users?
Allowing the user to do a guest checkout can be a viable alternative, especially for newly launched channels with low trust levels, but also for those brands that do not have an interesting benefit-registration model for the user. It is indeed important to make users aware of the benefits of eCommerce registration. What are the benefits? Product previews, reward campaigns, exclusive discounts, personalized communications and browsing the eShop based on the user's interests.
---